We recently sat down (virtually – of course) with our friends over at Xero to re-affirm the relationship between us – more specifically, with Bright's practice management software, AccountancyManager. We all wanted to ensure the AccountancyManager/Xero integration was still very much loved, and making the working life of accountants as easy as possible.  
Great news – it absolutely is.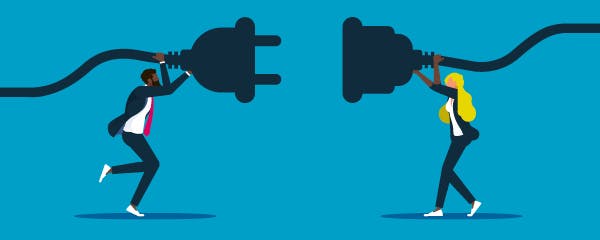 Wait... Bright's practice management software integrates with Xero? 
Our Xero integration was one of the most requested features in the early days of AccountancyManager. When we delivered a two-way sync for contacts/clients and invoices, you could practically hear accountants singing from the rooftops. Here's a whistle-stop tour of all the benefits... 
Recurring invoices  
It's simple: set up your recurring invoices as usual in Xero and they'll be sent from AccountancyManager.  
Say goodbye to duplicate data entry 
When you're forced to enter the exact same information in two different systems you can physically feel your time being wasted – and this is where the AccountancyManager/Xero integration can have the biggest impact on your day. 
Create your invoices just once in AccountancyManager – click a button – and they'll appear in Xero. Just had an invoice paid? Fantastic. Mark it as paid in AccountancyManager and see it reflected in Xero.   
It's exactly the same for your client details. When your clients make changes to their personal or business details in Xero, the two-way sync will update AccountancyManager. Likewise, if you change something in AccountancyManager, Xero will change too. 
But I create my invoices in Xero? 
No problem. You can also send them over to AccountancyManager with ease. But top tip: If you create invoices in AccountancyManager, you can really level-up the integration... 
Generate invoices as you work and monitor client profitability 
Track the time you spend on any billable tasks for each client with the timer. As you work, AccountancyManager will build invoices in the background that are ready to go whenever you are – whether that's immediately or at a pre-determined frequency. As well as saving you time, it's a great way to understand how profitable each client is and to spot new opportunities. 
Stop chasing unpaid invoices 
Chasing your clients is hard work, and we're all about the easy life. Luckily, AccountancyManager is great at getting what you need from your clients, whether that's details, signatures, accounts, or a paid invoice. Just set the content and frequency and AccountancyManager will continue to send gentle nudges (or quite insistent requests – it's your call) until you have what you need. 
Enjoy a one-stop-shop 
The client timeline in AccountancyManager houses all the documents you and your clients share, including the invoices you've sent. It also records every email, text and phone call. Think of it as a one-stop-shop for each of your clients. 
New to AccountancyManager or Xero? 
Whether you're a Xero user interested in AccountancyManager, or the other way around, our two-way sync makes it quick and easy to populate the systems with your client contact information. 
Find out more 
Discover all the ways Bright's practice management software can streamline your admin and save you time at an upcoming free demo. 
Did you know? 
Bright's payroll software and tax solution also integrate with Xero.